Canopy Collabs: Jordana Reim x Himalaya House Project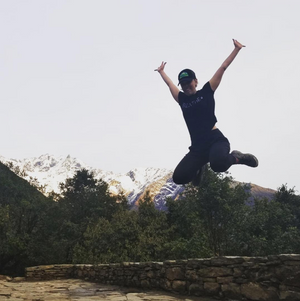 Hey Everyone!
We're so excited to have the team at 180 Retreats - founded by our dear friend Jordana Reim - sport our trucker during their journey up Mount Everst in support of Himalaya House Project! 10% of all Savor the Journey Patch sales will go to support Himalaya House in its mission to provide earthquake relief to Nepal. Check out her guest blog below, and make sure to follow her on her journey!
When I first saw "Savor The Journey," I couldn't hide the smile that came across my face. As a meditation teacher and well-being coach, it felt like Canopy went inside my head for this one. My company 180 Retreats creates conscious experiences for those ready to reach for personal heights, a greater sense of peace and sparking creativity. A key component to all that we do is connection through nature and savoring the present moment.
So how perfect was this? Eco-friendly hats to shield our faces from the sun that also shares our heart's mission.
I'm so excited to share that Canopy is an official partner for 180 Retreats and our "Trekking and Transformation: Everest Base Camp Retreat." 
Our Nepal retreats employ local Nepali partners, porters and businesses. Since meeting Birendra Chudal and his company (who we partner with) in 2015, I was inspired by how the Nepalese take care of each other. After the 2015 earthquake, Birendra began rebuilding homes with his own hands. Eventually, his work was recognized by some American friends and together they started the non-profit, Himalaya House Project. Today, Birendra's focus with HHP is in providing for orphans in Kathmandu, ensuring that they too can get an education.
As generous partners, Canopy is donating 10% of profits from "Savor the Journey" patch sales to Himalaya House Project from April through September. It is my hope that together we can help these children create better lives through education.
In the mountains we say, "Slowly, Slowly," because there is no place quite like the Himalayas and there is just one, Everest. We've got to take the time to savour.
Retreat participants are trekking as their "Everest-Self" - everyone is guided in creating a personal mantra for the trip, something that reminds them of who they really are, their best, truest self. "Savor the Journey" has become an unofficial group mantra we share to inspire us as we go.
Thanks to Canopy for everything - we'll be savoring this journey with you! If you're interested in following along, we'll be sharing on Instagram @180Retreats @jordanaisyoga and #savorthejourney #trekkingandtransformation
---
Also in The Canopy Blog: Under The California Sun